Catching up with the 2022 OMEGA Scholarship winners
It's May, which means we're quickly approaching the application deadline for the MIT AgeLab's 2023 OMEGA Scholarship. Since 2016, the OMEGA Scholarship has been awarded annually to recognize the efforts that teens are making to create multigenerational connections in their communities. The OMEGA Scholarship is a major element of our OMEGA outreach initiative, which aims to strengthen relationships and promote connections across generations – especially teens and older adults. This year, five high school juniors and seniors will be awarded with a $5000 college scholarship and a $1000 match award to support their initiatives.
Last year, I had the opportunity to review applications from the hundreds of incredible teens who had applied for the OMEGA Scholarship. Although it was a tight decision, the five winners were selected for their leadership, creativity, and dedication to creating multigenerational connections.  Recently, I was able to catch up with two of the students who were awarded scholarships in last year's cycle and hear how they were doing.
Cora Funk, now a senior at Valor Collegiate Academy in Nashville, Tennessee and incoming Honors program student at the University of Tennessee Knoxville, was awarded an OMEGA scholarship for her initiative Students Connecting Seniors. This school-based club partners with FiftyForward, a local nonprofit organization, to host a range of intergenerational activities and events, including a gardening project. "Our activities create an environment that allows for stories and experiences to be shared by both the seniors and the high school students so that relationships can grow across the generations," Cora explained in her application. Cora's initiative was highly regarded by the scholarship committee for its robust community connections and potential for sustainability over the next 5-10 years.
Cora's team is exploring ways to utilize the $1000 grant portion of the scholarship. They've considered purchasing musical instruments or craft materials to expand activity offerings, or holding more elaborate intergenerational parties for older adults and teens. Regardless of which avenue they choose, Cora says, the grant has provided them with the means to "kickstart a lasting project." To further ensure sustainability, a team of younger club members have shadowed Cora throughout her senior year so that, when Cora graduates, she can easily pass off the reins.
Cora also reports that the $5000 college scholarship has opened new doors for her academically, making her feel more confident about pursuing a college education and enabling her to look into colleges that she may not have thought possible before. Cora was recently accepted into the Honors program at the University of Tennessee-Knoxville, where she plans to study biology with a concentration in global health.
Michael Wilson, now a first-year student at Rose-Hulman Institute of Technology in Terre Haute, Indiana, uses music as a vehicle to bring together the generations. Michael was closely involved with his local chapter of the Arizona Old Time Fiddlers Association, where he helped to coordinate weekly music jams that "bring the young and the old together in a fun, low-pressure environment where [members] are provided with acoustic instruments and taught to play them." Michael also plays mandolin and sings in a band called "Six Gal 'n Hat," which performs music for older adults at local nursing homes, memory care facilities, senior centers, and various community events. The scholarship committee found Michael's work to be a fantastic example of smaller—yet still impactful—community-focused initiatives.
Although Michael has moved away from his home in Arizona, he remains in touch with the older adults – whom he considers his "mentors and friends" – whom he has met over the past few years through his initiative. "They are always just a phone call away if I need help with a project or even a business idea," Michael says.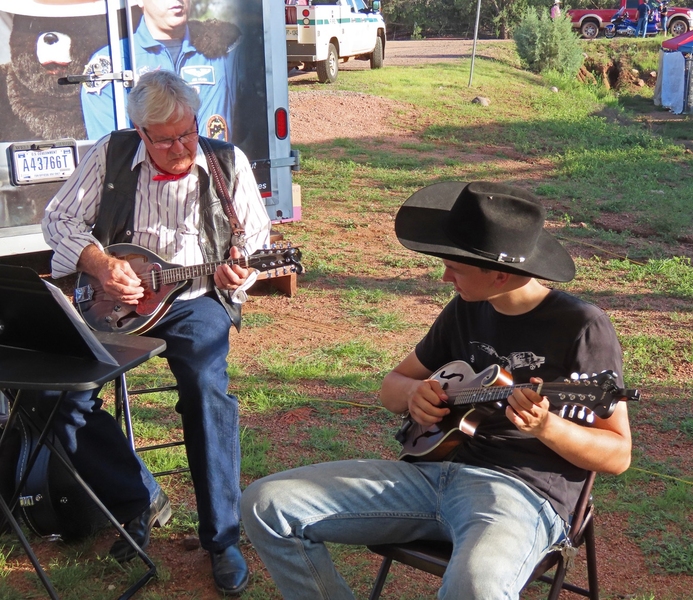 Michael reflected on how his intergenerational relationships have put him in touch with wisdom that would otherwise be difficult to come by. The time spent investing in these relationships, Michael says, is paid back "through long-term connections with those with experience, success, and wisdom that would take you a lifetime to form on your own." That sentiment is what sparked the genesis of OMEGA back in 2015: that younger and older people alike can benefit in untold ways from connecting with each other.
Catching up with these talented students and hearing more about how they have benefitted from their initiatives made me even more excited to review applications for this year's cycle.
Applications for the 2023 OMEGA Scholarship are due May 31, 2023. To learn more about eligibility and submission requirements, or to apply, visit https://agelab.mit.edu/omega-scholarship. Questions about OMEGA can be directed to omegamit@mit.edu.