My first time wearing AGNES, I attended the premiere of Disney Plus's Limitless with Chris Hemsworth. Here's how it went.
The new National Geographic documentary series, "Limitless," features international film star Chris Hemsworth testing the limits of the human body, including the boundaries of aging and longevity. The sixth and final episode of the series, titled "Acceptance," features Mr. Hemsworth donning the AgeLab's own Age Gain Now Empathy System, or AGNES, and confronting the realities of aging and death. To the AgeLab's excitement, this episode was chosen to be screened at the world premiere of the series in New York City, and researchers at the AgeLab were invited to view the episode and to show off the real AGNES suit during the following reception.
At some point before we all arrived in Manhattan, I had enthusiastically agreed to be the designated wearer of the AGNES suit. "What better occasion to wear AGNES for the first time?" I said, without thinking much about.
By the time I really began to consider what I had volunteered for, I was in a warehouse-like room away from the reception area for the premiere in Manhattan, and AgeLab researcher (and AGNES expert) Taylor Patskanick was helping me into the suit. She placed the weighted vest over my head before helping me to step into the famously hideous jumpsuit. She guided my feet into a pair of modified Crocs (the actual pair Chris wore in the episode) and secured around my waist a belt adorned with bungee cables. She strapped on the hook attachments for the dangling cables, and then weights on my ankles and wrists. Finally, the finishing touches: gloves, neck brace, helmet, and the vision-impairment goggles. The whole process took about 15 minutes. I then took my first few steps - more like shuffles - as AGNES.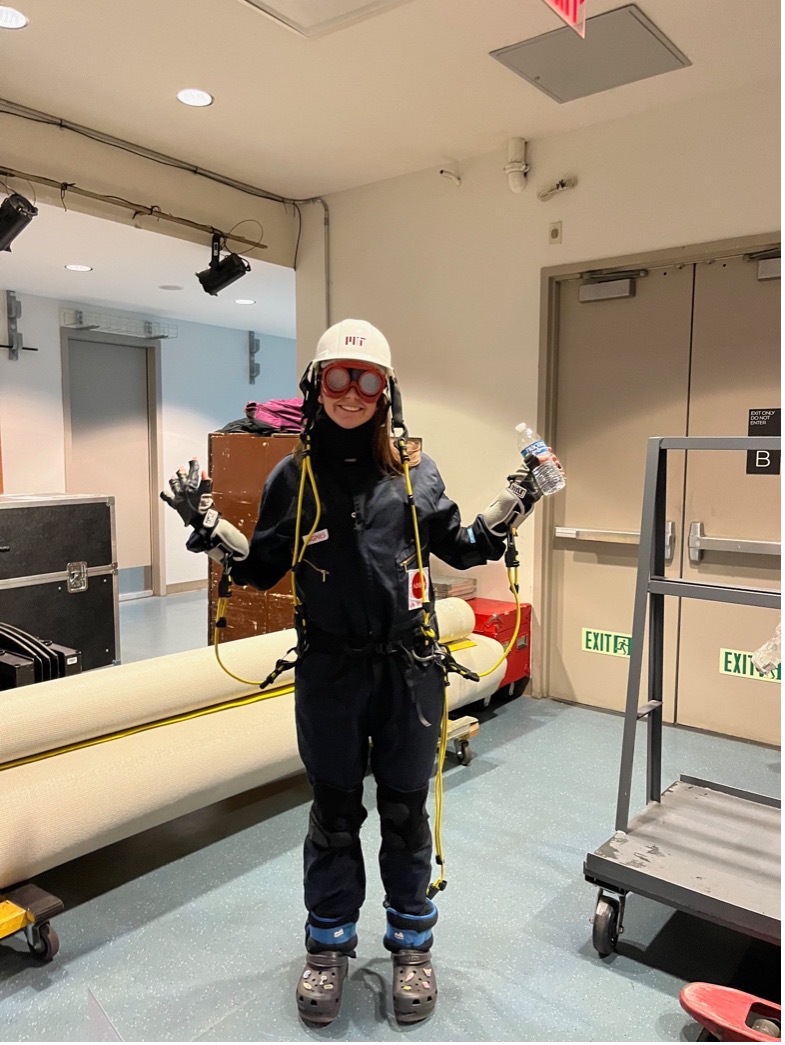 While my physical experience evolved throughout the night, I began to feel the effects of AGNES the moment the shoes went on. I felt off-balance and needed to hold onto nearby objects to stay upright.
When we returned from our makeshift dressing room, the room from which we had come seemed to have completely transformed. The goggles inhibited my peripheral vision, in addition to making things generally blurry, so it was tough to tell what was going on, and the dim green-and-blue club lighting did not help. But I was able to make out that a set of curtains had opened up to reveal a much larger, decked-out space for the reception. The space also felt like it had gotten ten degrees hotter, in part thanks to my new 20lb vest. Situated around the perimeter of this newly-opened space, Taylor explained, were interactive stations representing each of the episodes, and *we* were to be the interactive station for Episode 6.
I was relieved when Taylor suggested that we sit on one of the funky couches behind our station to wait for the reception to start. We watched (or, in my case, attempted to watch) as a stuntperson rehearsed for one of the other stations. I felt that I needed to focus extra hard in order to process everything going on around us, and Taylor had to fill in some of the blanks for me.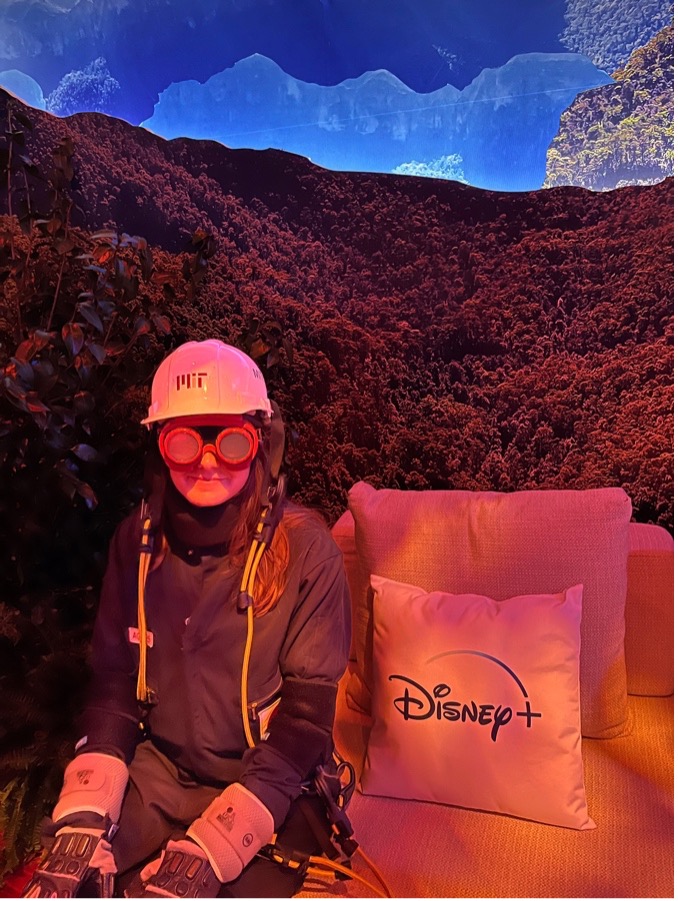 After a while Taylor and I decided to get up - which made me much more appreciative of seating with armrests - and return to our station. Moments later, a swarm of people emerged from the theater. People stopped and stared from a distance; others did double-takes but kept moving. Some people approached us for a closer look and to learn more about AGNES. Most questions, thankfully, were directed to AGNES experts Taylor, Lexi Balmuth, and Sophia Ashebir. My vision impairment goggles began steaming up and sliding down my head. In my burdened, distracted state, my colleagues occasionally had to shout my name a few times to get my attention or to call me over.
Some people approached me to ask me how it felt to be wearing the suit ("Tiring!" "Getting uncomfortable and heavy!" "These are *THE* shoes from the show!"). One woman approached me to ask, "May I take your photo?" Before I could respond, she whipped her phone out and began recording me. "Fabulous! Spin around for me!" Uh oh… new challenge unlocked. I shuffled my feet and took about ten seconds to orchestrate a wobbly 360 degree turn. The woman thanked me, perhaps a little disappointed, before wandering away to explore the rest of the event.
Then someone overheard that Chris (Hemsworth!) was taking photos with fans, and we jumped into action. My next challenge would be the most important yet: climbing the stairs in time to get some photos with Mr. Hemsworth before he vanished back into the private, extra-VIP party. We hurried to the stairs and I began taking one careful but determined step at a time, staring down at the Hemsworth-sized Crocs on my feet and holding on to the railing for dear life. My goggles had become so foggy that I felt it might be a safety hazard if I kept them on, so I made an executive decision to pull them off for the moment.
When we finally made it up, we spotted Chris taking photos. I caught my breath and clumsily put the goggles back on to prepare for our photo. Seeing us, he was clearly amused to see someone in the full suit. We had a brief conversation in which I blurted out that he has big feet and vaguely gestured to my oversized Crocs. Then Chris stood for a photo with the group of us before we retreated back downstairs, a voyage which felt less precarious than the urgent climb we had made earlier – although I decided to keep the goggles off to be extra safe.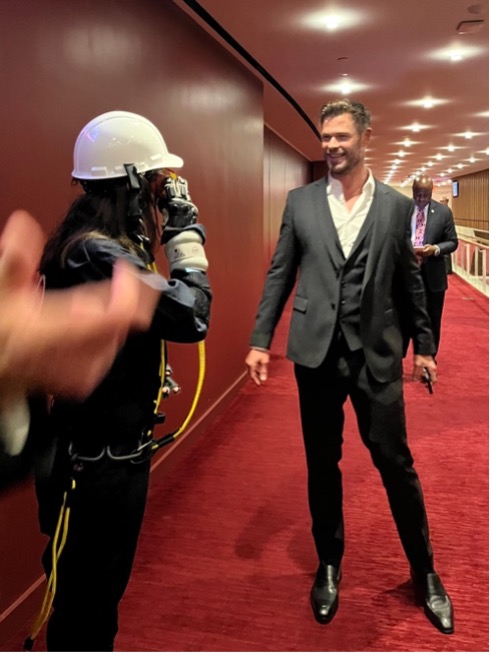 A bit later, one of the National Geographic staff members offered to wrangle Chris for another photo if we wanted to head upstairs. We quickly agreed, and my second time heading up the stairs proved to be a little easier.
Finally, having had two successful photo sessions with Chris, we made our way to the back room to remove the suit. I felt instant relief as Taylor, Lexi, and Sophia peeled the pieces off of me.
As the night went on while wearing the suit, my body felt more and more worn down. No position felt fully comfortable for me; standing still was burdensome, and moving was precarious. The effects were not only physical, too. Time passed very slowly while I was wearing the suit. The few minutes we spent waiting for the crowd to enter the reception, for example, felt like  hours. Plus, I found myself struggling to focus and relied much more heavily than I'd expected on the AGNES team to guide me to our next location or to fill me in on what I couldn't see or hear. One important theme that Limitless highlights is the importance of acknowledging our dependence – or rather interdependence – on other people in order to get around in the world. This interdependence upon each other is not something to lament, but a part of the richness of human life. AGNES made it clear to me how much it helps to lean on other people—particularly when they are excellent colleagues.
In a little over a year at the AgeLab, I have only learned about AGNES through second-hand experiences. I've watched many of my AGNES-expert colleagues talk to lab visitors about the suit, explaining how the suit's components simulate various experiences and conditions that tend to come with aging. I have watched others wear the suit and helped others don it. But even with all of this background, I found that there is nothing like the experience of putting on and wearing the suit yourself.